It's easy to use:
Drawing each and every steel shape you need for your structural layouts is a waste of valuable time.
This library can be easily loaded into AutoCAD or AutoCAD LT for Mac's Content Palette for quick access. There's no need to browse through folders every time you need to insert a steel shape. It's user-friendly interface allows you to simply point and click to choose from a wide range of steel shapes.
How it works:
Once installed, all symbols can be accessed from AutoCAD for Mac's Content Palette.
Step 1: Choose a category of symbols from the library list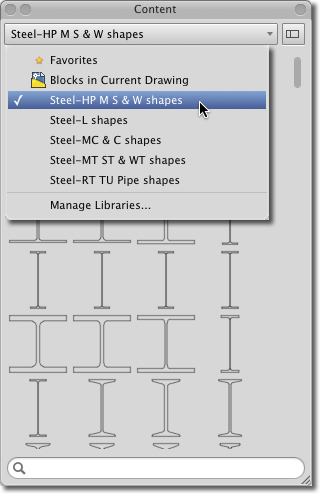 Step 2: The Content Palette will show all of the available symbols in that category. Holding your mouse over a symbol will show you it's name. You can also search for a steel shape name in the window at the bottom of the palette. Choose the symbol you would like to insert and drag it into your drawing.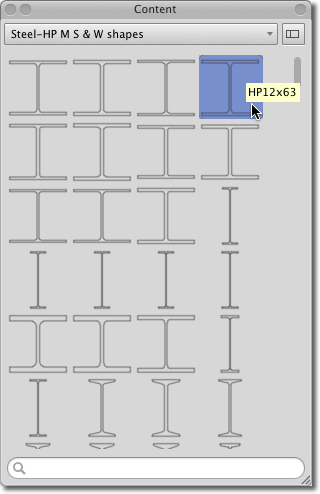 Details about the blocks:
This library was created using the dimensions you'll find in the "AISC Manual of Steel Construction, Load & Resistance Factor Design Volume 1, Second Edition".
You'll be able to select from a wide range of steel shapes, each drawn at a scale of 1:1 and on layer zero with "Bylayer" attributes. Once inserted, simply rotate the shape into position and it will be to scale and will take on the characteristics of your current layer settings.
All shapes are drawn as closed polylines or regions. After you insert a steel shape, explode it, then extrude it to create 3D steel layouts.
Crosshatching is not included with the blocks because it is usually on a separate layer and color. The insertion point of each shape is at a midpoint common to each particular steel shape.
Buy Now
Here's what you get:
The "Steel Shapes Library" comes with a total of 1,143 accurately drawn symbols in the following categories:
Flanged beams:
W Shapes: sizes W4 through W44
S Shapes: sizes S3 through S24
M Shapes: sizes M5 through M12
HP Shapes: sizes HP8 through HP14
Channels:
American Standard Channels: sizes C3 through C15
Miscellaneous Channels: sizes MC6 through MC18
Angles:
Equal Leg Angles: sizes 2"x2" through 8"x8"
Unequal Leg Angles: sizes 2 1/2"x2" through 9"x4"
Structural tube:
Square: sizes 1 1/2"x1 1/2" through 30"x30"
Rectangular: sizes 2 1/2"x1 1/2" through 30"x24"
Structural pipe:
Standard, extra strong, double extra strong: sizes 3" through 12"
Structural tees:
WT Shapes: sizes WT2 through WT22
MT Shapes: sizes MT2.5 through MT6
ST Shapes: sizes ST1.5 through ST12
System requirements:
Compatible with AutoCAD for Mac and AutoCAD LT for Mac
3 megabytes of available disc space required
Pricing:
Single user license - $97.00
2 to 10 user licenses - $87.00 each
Unlimited user license - $1,000.00
30 Day Money-Back Guarantee:
If you're not satisfied with your purchase, return it for a full refund.
---
How to order:
Select the method you prefer: